11/2020 Release: Introducing Two-Factor Authentication and SAML
When you are working on something confidential, keeping your report or presentation private becomes especially important. That's why in November, we have added two new layers of security to the Piktochart editor.
Two-Factor Authentication (2FA) and SAML
You can now double up on security by protecting your account with two-factor authentication. It's the simplest, most effective way to get secure access to your Piktochart account.
By setting up 2FA, you're protecting your account against many security threats that target user passwords and accounts, such as phishing, brute-force attacks, credential exploitation and more.
You will be able to implement it from the Account Settings level: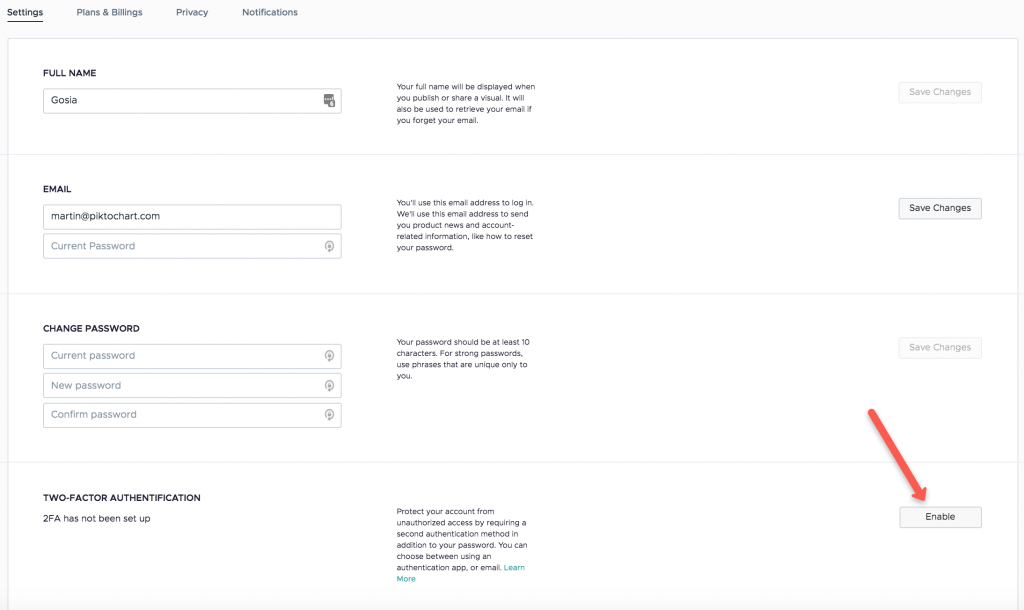 To find out how to fully enable 2FA for your Piktochart account, please check out our dedicated support article and follow the steps outlined there.
Security Assertion Markup Language (SAML) for PRO TEAM Accounts
If your organization uses the Piktochart for Teams plan, we're happy to let you know that you will now be able to manage your multiple accounts using SAML.
SAML is a secure, XML based communication mechanism for communicating identities across the internet. It primarily enables internet SSO (Single Sign On), but it is also essential for these three reasons:
Security (it decreases the risk of identity thefts or phishing attacks)
Access (it eliminates the need to type in passwords in multiple locations)
Administration (lowers the time and cost of maintaining duplicate credentials)
Thanks to SAML, the technical relationship between your organization, users who use Piktochart, and the Piktochart app itself will now become even more secure.
You will be able to implement it from the Team Account Settings level: